Unforgettable Things to Do in Australia in 2023
Australia is a land of endless adventure and breathtaking beauty. From its stunning coastline to its rugged outback, there are countless experiences to be had in this vast and diverse land. But what if you could narrow it down to the 50 most unforgettable things to do in Australia in 2023? Prepare to be amazed as we take you on a whirlwind journey through the best that Australia has to offer. From snorkeling in the Great Barrier Reef to exploring the depths of the Daintree Rainforest, this list is sure to inspire and ignite your wanderlust.
Ready to embark on the ultimate Australian adventure? Let's dive in and discover the 50 unforgettable things to do in Australia in 2023!
Short Summary
Explore the majestic Great Barrier Reef and Uluru-Kata Tjuta National Park.
Embark on a journey of breathtaking scenery, fascinating wildlife, and unique experiences from Sydney Harbour to Wineglass Bay in Tasmania.
Swim with whale sharks at Ningaloo Reef or skydive over scenic landscapes, Australia has something unforgettable for everyone!
Experience the Great Barrier Reef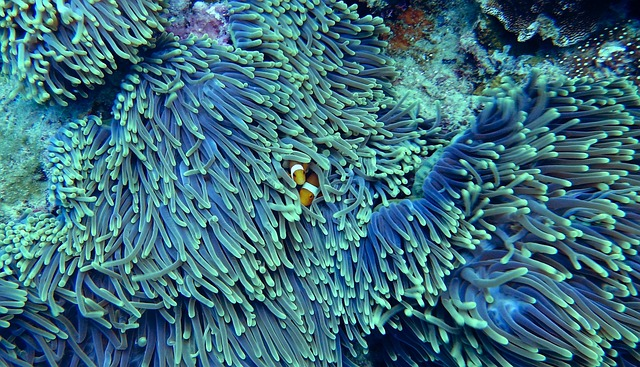 The Great Barrier Reef, stretching an awe-inspiring 2,300 kilometers along Australia's east coast, is one of the world's most breathtaking natural wonders. Imagine plunging into crystal-clear waters and swimming alongside vibrant marine life such as giant clams, sea turtles, stingrays, and colorful tropical fish. Booking a snorkeling or scuba diving tour with an eco-friendly company ensures that you're helping to protect this precious ecosystem for future generations while getting the adventure of a lifetime.
Not only can you explore the Great Barrier Reef from the popular base of Cairns, but you can also venture to the lesser-known gems of Port Douglas and Cape Tribulation. These incredible locations offer a more intimate and secluded experience, allowing you to truly immerse yourself in the underwater paradise.
Mark your calendar for this bucket list adventure and get ready to be captivated by the stunning beauty and diverse marine life of the Great Barrier Reef. Trust us, it's an experience you'll never forget!
Marvel at Uluru-Kata Tjuta National Park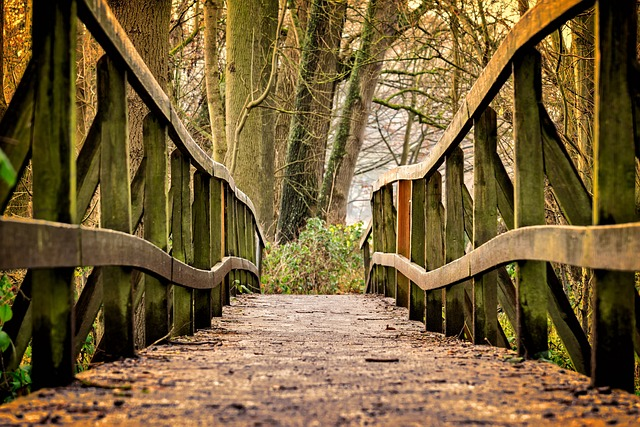 Journey to the heart of Australia's Red Centre and prepare to be mesmerized by the iconic Uluru and Kata Tjuta rock formations, nestled within the Uluru-Kata Tjuta National Park. This incredible destination is not only rich in natural beauty, but also steeped in Aboriginal culture, making it an essential stop on your Australian adventure.
One of the best ways to experience this sacred landscape is by joining an Aboriginal guided tour. As you traverse the stunning terrain, you'll learn about the traditional way of life and the deep connection the local Anangu people have with the land. If you're visiting between April and mid-October, don't miss the unforgettable Tali Wiru experience – dining under the stars overlooking Uluru while indulging in a menu featuring native ingredients and listening to captivating Dreamtime stories.
Whether you're seeking spiritual enlightenment or simply admiring the majestic natural beauty, Uluru-Kata Tjuta National Park is a must-see destination on your Australian adventure.
Embark on a Great Ocean Road Adventure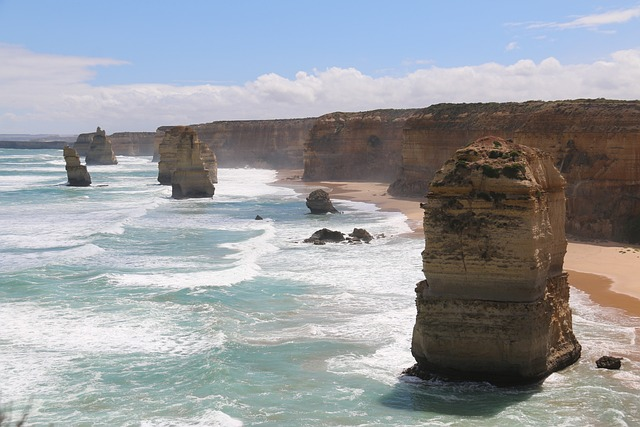 Imagine driving along the stunning coastline of Australia, the salty ocean breeze in your hair and the sun shining overhead. The Great Ocean Road offers just that – a scenic journey through charming towns, lush national parks, and jaw-dropping ocean views. One of the most iconic sights along this road trip is the Twelve Apostles, a collection of limestone stacks rising majestically from the ocean.
Not only can you marvel at the breathtaking scenery, but the Great Ocean Road also offers the perfect opportunity to observe koalas in the wild. Keep your eyes peeled as you wind your way through this picturesque landscape, and you might just catch a glimpse of these adorable marsupials.
So buckle up and get ready to embark on a Great Ocean Road adventure filled with unforgettable vistas, fascinating wildlife, and memories that will last a lifetime!
Unwind at Wineglass Bay, Tasmania
Tucked away in the stunning Freycinet National Park, you'll find Wineglass Bay, a hidden gem with a perfect curve of sparkling white sand, majestic pink granite rocky shores, and mesmerizing turquoise waters. This iconic Tasmanian beach offers the perfect escape for those looking to unwind and soak in the beauty of nature. Whether you're dipping your toes in the crystal-clear waters or strolling along the pristine shoreline, you'll find tranquility at every turn.
For the more adventurous, consider joining the Wineglass to Wine Glass guided walking tour. This delightful full-day excursion provides an intimate experience for a small group of hikers, while your guide shares fascinating insights into the region's flora, fauna, and history. As you immerse yourself in the breathtaking landscapes, you'll quickly understand why Wineglass Bay is considered one of Tasmania's must-visit destinations.
So pack your bags and prepare to leave the hustle and bustle behind as you unwind in the serene beauty of Wineglass Bay, Tasmania.
Explore Sydney Harbour and Its Icons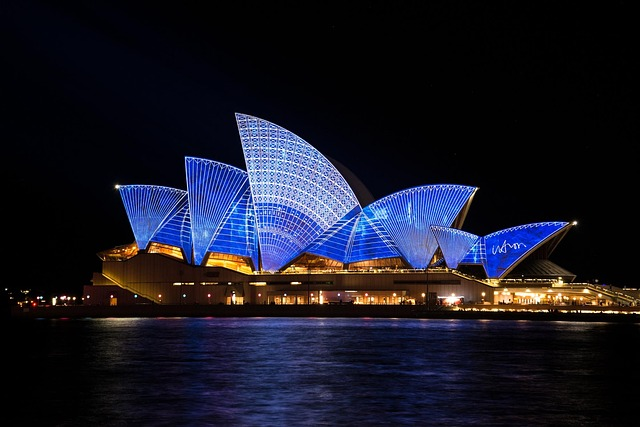 No trip to Australia would be complete without exploring the iconic Sydney Harbour. From the world-famous Sydney Opera House, where you can attend a spectacular show or take an informative guided tour, to the equally impressive Sydney Harbour Bridge, offering jaw-dropping views of the city skyline, there's no shortage of unforgettable experiences to be had in this bustling metropolis.
One way to truly appreciate the beauty of the harbour is by taking a ferry ride, such as the popular route to Manly Beach. As you glide along the sparkling waters, you'll be treated to a unique perspective of the iconic landmarks, including the breathtaking Sydney Opera House and the imposing Harbour Bridge. Once you arrive at Manly Beach, take some time to enjoy the sun, surf, and the incredible Figure 8 Pools.
Whether you're a first-time visitor or a seasoned Sydney-sider, there's always something new and exciting to discover in the heart of this vibrant city.
Discover the Diverse Wildlife of Kangaroo Island
Imagine yourself stepping onto the shores of Kangaroo Island, a nature lover's paradise just off the south coast of Australia. This incredible island is home to a plethora of unique wildlife, including koalas, kangaroos, sea lions, and seals. With knowledgeable Australian rangers as your guide, you'll uncover the island's incredible wildlife and breathtaking natural wonders.
For an even more intimate encounter with Australia's native animals, consider visiting the Lone Pine Koala Sanctuary. Here, you can hold a koala, feed kangaroos, and come face-to-face with various species in their natural habitats.
If swimming with dolphins is on your bucket list, you're in luck! There are great deals available for this unforgettable experience. So grab your binoculars and camera, and get ready to embark on a wildlife adventure like no other on Kangaroo Island.
Immerse Yourself in Kakadu National Park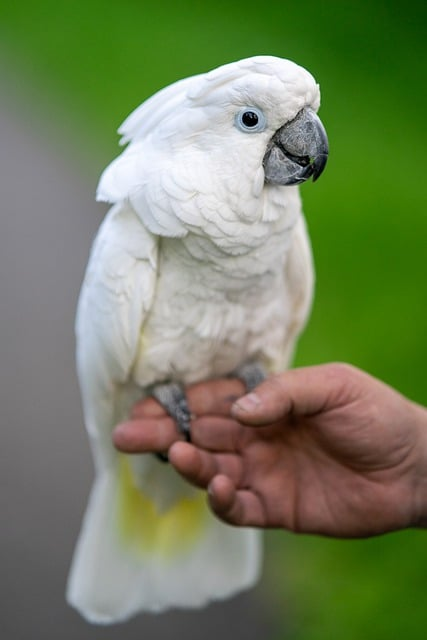 Kakadu National Park, spanning an astonishing two million hectares of pristine wilderness, is Australia's largest national park and a treasure trove of natural and cultural wonders. This awe-inspiring destination offers an abundance of activities for nature lovers and adventure seekers alike. Swim under breathtaking waterfalls, hike through lush forests, or embark on a Yellow Water wetland cruise to gain insight into the Indigenous people's connection to the land.
As you explore the park, be prepared to encounter an incredible variety of wildlife, including over 280 bird species, 60 native mammals, thousands of insect species, and more than 120 types of reptiles. Don't forget to keep an eye out for the park's most famous resident: the crocodile!
Whether you're an avid hiker, a bird enthusiast, or simply seeking a connection with nature, Kakadu National Park offers an unforgettable journey into the heart of Australia's wilderness.
Journey to the Heart of Arnhem Land
Venture off the beaten path and journey to the heart of Arnhem Land, one of Australia's most untouched regions. This vast expanse of unspoiled wilderness is home to the vibrant Aboriginal Yolngu people, who have inhabited the area for thousands of years. As you explore this remote and breathtaking landscape, you'll be captivated by its diverse scenery, isolation, beauty, and the art and music of its people.
Access to Arnhem Land requires a permit, but the extra effort is well worth it. Once there, you can visit the Yolngu's Homeland territory in East Arnhem Land, where you'll be granted a rare glimpse into the lives and traditions of this fascinating culture.
Arnhem Land is truly a once-in-a-lifetime experience, offering visitors the chance to immerse themselves in the rich history and stunning landscapes of a region that remains largely untouched by modern civilization.
Traverse the Blue Mountains
A trip to Australia wouldn't be complete without a visit to the breathtaking Blue Mountains. Located in New South Wales, this stunning mountain range is home to dramatic cliffs, lush forests, and picturesque waterfalls. As you hike through the captivating scenery, be sure to keep an eye out for the Three Sisters, an iconic rock formation with a fascinating Aboriginal Dreamtime story behind it.
For an extra dose of adventure, try your hand at canyoning in the Blue Mountains. This exciting activity involves navigating through the park's rugged terrain, swimming in pristine pools, and rappelling down towering cliffs.
Whether you're seeking serenity or adrenaline-pumping adventure, the Blue Mountains offer a diverse range of experiences that will leave you in awe of Australia's natural beauty.
Savor Australian Wine Culture
Australia's thriving wine industry is a must-experience for any visitor, with vineyard tours and tastings available in renowned regions such as Margaret River, Barossa Valley, and Yarra Valley. Australian wine culture celebrates small producers and natural winemaking, resulting in a diverse and exciting scene that caters to both casual wine drinkers and connoisseurs alike.
For an extra special experience, visit the Mornington Peninsula, known for its exquisite local wines and delicious food. Here, you can indulge in the ultimate combination of fine wine, gourmet cuisine, and stunning scenery.
So raise your glass and toast to Australia's vibrant wine industry, as you savor the flavors and aromas of some of the world's finest wines.
Swim with Whale Sharks in Ningaloo Reef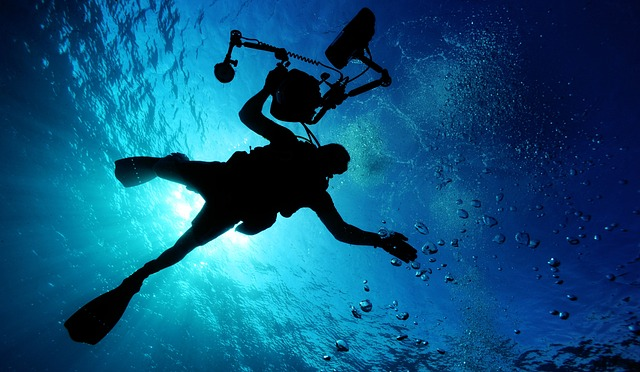 Discover the wonders of the deep by swimming alongside majestic whale sharks in the crystal-clear waters of Ningaloo Reef. Located in Western Australia, this UNESCO World Heritage-listed site is home to an incredible array of marine life, making it the perfect destination for an unforgettable underwater adventure.
To fully immerse yourself in this awe-inspiring experience, join a guided tour that takes you out to the reef to swim with these gentle giants. As you glide through the water, marvel at the grace and beauty of these magnificent creatures, and be prepared for a truly life-changing encounter.
Don't miss the opportunity to swim with whale sharks in Ningaloo Reef – it's an adventure that you'll treasure forever.
Experience the Daintree Rainforest
Venture into the ancient Daintree Rainforest, the world's oldest tropical rainforest, and prepare to be enchanted by its unique wildlife and lush vegetation. As you explore this remarkable ecosystem, you'll encounter cassowaries, tree kangaroos, and thousands of insect species, all surrounded by the vibrant green hues of ferns, palms, and ancient cycads.
For a truly immersive experience, join a guided tour or take a canopy walk through the treetops, offering a bird's eye view of this breathtaking rainforest. As you delve deeper into the Daintree, you'll be transported back in time, gaining a newfound appreciation for the incredible diversity and resilience of our planet's ecosystems.
Embark on a journey of discovery and wonder as you experience the unparalleled beauty and history of the Daintree Rainforest.
Surf Australia's Iconic Beaches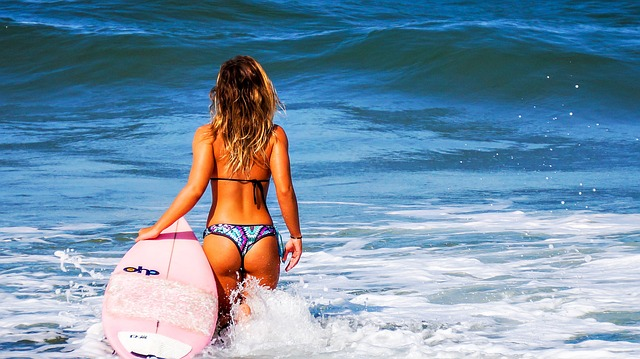 Australia is renowned for its beautiful beaches and world-class surf breaks, making it the perfect destination for those looking to ride the waves. Whether you're a seasoned surfer or a complete beginner, there's no better place to learn than on Australia's iconic beaches like Bondi, Manly, or the Gold Coast.
Friendly local instructors are always on hand to teach you the basics and help you catch your first wave. With their guidance, you'll be up on your board in no time, feeling the excitement of riding the swells beneath the warm Australian sun.
So grab your board and join the ranks of surfers who have flocked to Australia's iconic beaches for decades. It's time to dive in and experience the thrill of surfing firsthand!
Ride the Legendary Ghan Train
Step aboard the legendary Ghan train and embark on a journey of a lifetime, traveling from Adelaide to Darwin through the heart of Australia. As you traverse the country's diverse landscapes, you'll enjoy luxurious accommodations and scenic views that will leave you breathless.
The Ghan offers a unique opportunity to experience the lush tropical greens of the Top End, the majestic red desert sands of the Red Centre, and the awe-inspiring rugged mountains of the Flinders Ranges. Over three unforgettable days, you'll be immersed in the beauty and diversity of Australia's landscapes, making memories that will last a lifetime.
So sit back, relax, and let the legendary Ghan train take you on an incredible journey across the vast expanse of Australia.
Visit the Quirky Town of Byron Bay
Nestled on the far-north coast of New South Wales, the quirky town of Byron Bay is renowned for its breathtaking beaches, one-of-a-kind shopping and dining experiences, world-class festivals, and vibrant community spirit. Whether you're a beach lover, a foodie, or an art enthusiast, there's something for everyone in this laid-back coastal haven.
For an unforgettable adventure, try your hand at hot air ballooning over the picturesque hinterland, offering stunning views of the surrounding landscape. Or, if you're a music lover, be sure to check out the iconic Blues Fest, featuring legendary blues singers like Bob Dylan and Chris Isaak.
Byron Bay is a destination that truly captures the essence of Australian coastal living, so be sure to add this charming town to your travel itinerary.
Witness the Pink Lakes Phenomenon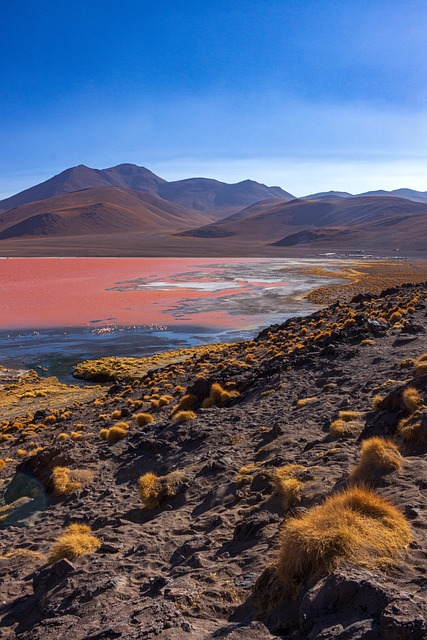 Prepare to be amazed by the unique natural wonder of Australia's pink lakes, such as Lake Hillier in Western Australia and Lake Kenyon, Lake Crosbie, and Lake Becking in Victoria. These stunning bodies of water get their vibrant hue from the unique forms of bacteria and algae that secrete red pigments, giving the saltwater a brilliantly bright pink hue.
Visiting these remarkable lakes is a once-in-a-lifetime experience, offering a chance to marvel at the incredible beauty and diversity of Australia's natural landscapes. As you stand on the shores of these mesmerizing pink lakes, you'll be left in awe of the wonders that Mother Nature can create.
Don't miss the opportunity to witness the pink lakes phenomenon for yourself, as it's truly a sight you'll never forget.
Skydive Over Scenic Landscapes
For the ultimate adrenaline rush, nothing compares to skydiving over Australia's stunning landscapes. Imagine yourself leaping from a plane and experiencing a heart-pounding free fall before deploying your parachute and floating gently back to earth. With locations like Rottnest Island in Western Australia, Wollongong and Byron Bay in New South Wales, Mission Beach in Queensland, and Lee Point Beach in the Northern Territory, there's no shortage of breathtaking backdrops for your skydiving adventure.
As you soar through the sky, take in the incredible views of Australia's diverse landscapes, from rugged coastlines to lush forests and rolling hills. Whether you're an experienced skydiver or a first-time jumper, this exhilarating experience is one you'll never forget.
So gather your courage and take the leap. Skydiving over Australia's scenic landscapes is an adventure that's not to be missed!
Watch Whales Migrate along the Coast
One of the most awe-inspiring experiences in Australia is witnessing the majestic migration of whales along the coast. From mid-July to late November, these incredible creatures make their way through Australian waters, providing a once-in-a-lifetime opportunity to see them up close.
To fully appreciate this spectacular event, join a whale-watching tour in locations like Hervey Bay, Sydney, or Port Stephens. As you head out to sea, keep your eyes peeled for humpback whales, as well as other marine life such as dolphins, seals, and sea birds. With each sighting, you'll be reminded of the beauty and wonder of the natural world.
Don't miss the chance to watch these gentle giants as they journey through Australia's waters. It's an experience that will leave you with memories to cherish for a lifetime.
Sandboard Down Massive Dunes
Embrace your inner adventurer by sandboarding down the massive dunes of locations like Port Stephens or Lancelin. This thrilling activity involves gliding down the dunes on a board, similar to snowboarding, and offers an exciting way to experience Australia's unique landscapes.
As you carve your way through the sand, you'll be amazed by the exhilarating sensation of speed and the stunning views that surround you. Whether you're a seasoned sandboarder or a complete beginner, this exciting activity is sure to get your adrenaline pumping.
So strap on your board and get ready to conquer the dunes as you experience the thrill of sandboarding in Australia.
Explore the Unique Ecosystem of Rottnest Island
Just off the coast of Western Australia lies the idyllic Rottnest Island, a haven for unique wildlife and pristine beaches. As you explore this charming island, you'll encounter its most famous residents – the adorable quokkas. These small marsupials, which resemble wallabies, are sure to capture your heart with their friendly nature and infectious smiles.
In addition to meeting the quokkas, Rottnest Island offers a wealth of activities for visitors to enjoy. From swimming and snorkeling in the crystal-clear waters to hiking and cycling through the island's stunning landscapes, there's no shortage of ways to immerse yourself in the beauty of this unique ecosystem.
So pack your bags and set sail for Rottnest Island, a destination that promises unforgettable experiences and memories to last a lifetime.
Summary
From the awe-inspiring beauty of the Great Barrier Reef to the captivating culture of Arnhem Land, Australia offers a wealth of unforgettable experiences for every traveler. As you journey through this diverse land, you'll encounter breathtaking landscapes, unique wildlife, thrilling adventures, and a vibrant culture that is sure to leave you longing for more.
Whether you're diving beneath the waves in Ningaloo Reef, hiking through the ancient Daintree Rainforest, or savoring the flavors of Australia's thriving wine culture, these 50 unforgettable things to do in Australia in 2023 are sure to create memories that will last a lifetime. So pack your bags and prepare to embark on the adventure of a lifetime in the land Down Under.
Frequently Asked Questions
What is famous for in Australia?
Australia is world-renowned for its beautiful landscapes, unique wildlife, and vibrant cities. Whether you're visiting the Great Barrier Reef or exploring the Outback, you're sure to find a wealth of amazing attractions and experiences in Australia.
6 Apr 2023 is the perfect time to visit Australia and experience all it has to offer. With its stunning natural beauty, diverse wildlife, and vibrant cities, Australia is sure to provide an unforgettable experience.
What things are free in Australia?
In Australia, there are plenty of great things to do that won't cost you a cent! From cultural experiences to outdoor activities, enjoy the beauty of Australia without spending a single dollar.
With stunning beaches, art galleries, museums, and national parks, you can find something for everyone in this amazing country for free!
What to do when you're in Melbourne?
Experience the best of Melbourne! Immerse yourself in the culture with a trip to the Immigration Museum, take in stunning architecture at the Shrine of Remembrance, marvel at some of Australia's greatest works of art at the Ian Potter Centre and ACMI, cheer on your favourite team at the iconic Melbourne Cricket Ground and explore marine life at SEA LIFE Melbourne Aquarium.
So much to do and so much to see – you won't be disappointed!
What does Australia do for fun?
Australians love to get out and enjoy the great outdoors, be it an ocean dip at one of its world-famous beaches, a hike through its lush rainforests or a camping trip under the stars.
Aussies also like to celebrate with BBQs and backyard parties. There's no shortage of fun activities down under!
What is Australia is famous for?
Australia is an incredible place, blessed with vibrant cities, stunning coastlines, remarkable wildlife, and friendly people. From tropical rainforests to golden beaches and rugged outback landscapes, the continent offers something for everyone to enjoy.
The country is home to a diverse range of cultures, with a rich history and a vibrant modern culture. Whether you're looking for a relaxing beach holiday, an adventure in the outback, or a relaxing beach holiday.